Gabions Mattresses
Gabion mattresses are baskets are manufactured from hexagonal woven wire mesh type 60 or 80, also known as double twisted mesh in accordance to EN10223-3.
Gabion mattresses are filled with rock at the project site to form flexible, permeable, monolithic structures such as retaining walls, channel linings and weirs for erosion control projects.
The steel wire commonly used in the making of gabion mattresses is heavily zinc coated. Additionally, to provide added protection Zn95Al5 coated wire or wire with PVC coating extruded over the heavily galvanized is utilized in environments with pollution, such as acidic soils or water, with proximity to the sea or generally in cases that the risk of corrosion is higher.
Gabion mattresses are produced and shipped with all parts tied together during production. The front, base, back and lid of the gabions is a single unit. The diaphragms are connected to the base of the Gabion mattresses. All selvedge wires of the mesh forming the box and the lid, have a larger diameter. The gabion is divided into cells by diaphragms positioned at approximately every 1 m. The diaphragms is always fixed in position to the base and no further lacing is necessary at the worksite.
Gabion mattresses are commonly used bank protections, riverbed and stream bed reinforcement and in more favourable condition than the ones that the gabions are applied.
Gabion mattresses have a parallelepiped form, with width 2.00m and height between 0.17-0.30m with diaphragms in every meter.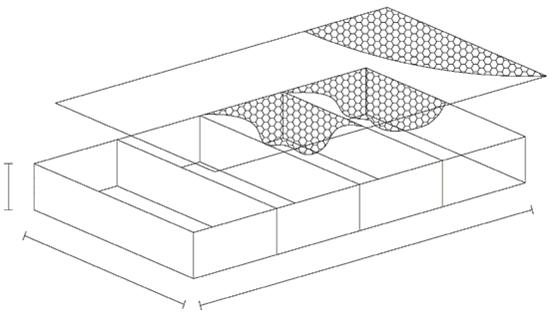 Gabion mattresses

Mesh Opening (mm)

Diameter (mm)

Tolerances

Height 0,17 to 0,30 m

60 (6x8)

2,70

± 0,06mm

80 (8x10)

3,00

± 0,06mm

Size properties of wire:

Mesh Opening (mm)

6x8

6x8

8x10

8x10

Wire diameter- mesh (mm)

2,20

2,70

2,70

3,00

Wire diameter- selvedge (mm)

2,70

3,40

3,40

3,90