Lacing equipment
Fasteners (C-Rings) may be used instead of or together with the lacing wire for the gabion assembly and setting up.
In order to achieve better and faster results in the fastening of the gabions, which is essential to the stability and security of any project, special fasteners should be applied (C-Rings). On average 25 rings are needed per m³ and must be in accordance to the following:

► Diameter of the wire 3.00mm, in accordance with ΕΝ 10218-2.

► Tensile strength: 1586-1882 Ν/mm² according to ASTM A764-95 (2001).

► Ring size 45mm


The distance between the fasteners must be according to distancing deriving from 20,8 kN/m pull apart resistance for mesh tested according to ASTM A975 section 13.1.2, with a minimal distancing 100 mm and no further than 150 mm.

C-rings, are available with Galfan coating (ASTM B 341) diameter 3.00mm. Stainless steel C-rings are also available for the polymer coated wires.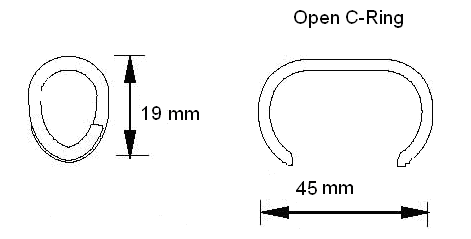 .